Pre-K For All was a new initiative under the NYC Mayor's Office to promote citywide access to free public education for any child at the age of 5. The NYC Department of Education's Office of Student Enrollment was charged with supporting and creating documentation around Pre-K enrollment, notifying families throughout the 5 boroughs of NYC.
My role as a Digital Designer of the NYC Department of Education involved working on digital interfaces, print publications and signage with pre-k through high teams in the Office of Student Enrollment. One of the initiatives under the new mayor at the time, Bill de Blasio, was to develop a campaign for free Pre-K available to all NYC residents with children under 5 years of age. I worked with the Mayor's Office of New York and Early Childhood Education to develop a Pre-K for All brand campaign, website and publication materials.

TASKS
•Planning and scope definition
•Research and Interviews
•Information Architecture
•Design Execution
•Visual UI Design
•Brand Strategy
The goal in this ongoing project was to attract NYC families to register for free Pre-K. The focus was to give families tools to register children into the NYC education system and to create awareness around Pre-K education. 
DISCOVERY



The discovery process began by working closely with NYC Family Welcome Centers, admissions centers who formerly enrolled children into the NYC education system. We also attended information sessions, after-school events and city-run admissions fairs to speak to parents, families, teachers and guidance counselors about the admissions process. Through discussions, we asked, "what are alternative ways to enroll a child into Pre-K?" and "Can you describe the enrollment process?"  
We were working with a large population who had various levels of access and understanding to technology and information.
With the previous methods of registration being largely in-person, the digital application and online instructional site received positive feedback from Family Welcome Centers and school guidance counselors. FWCs began to see a reduction in traffic and more informed families which assisted staff in the registration process. The Pre-K microsite became the most visited page on the NYC Department of Education's site with over 7.7 million views in 2015.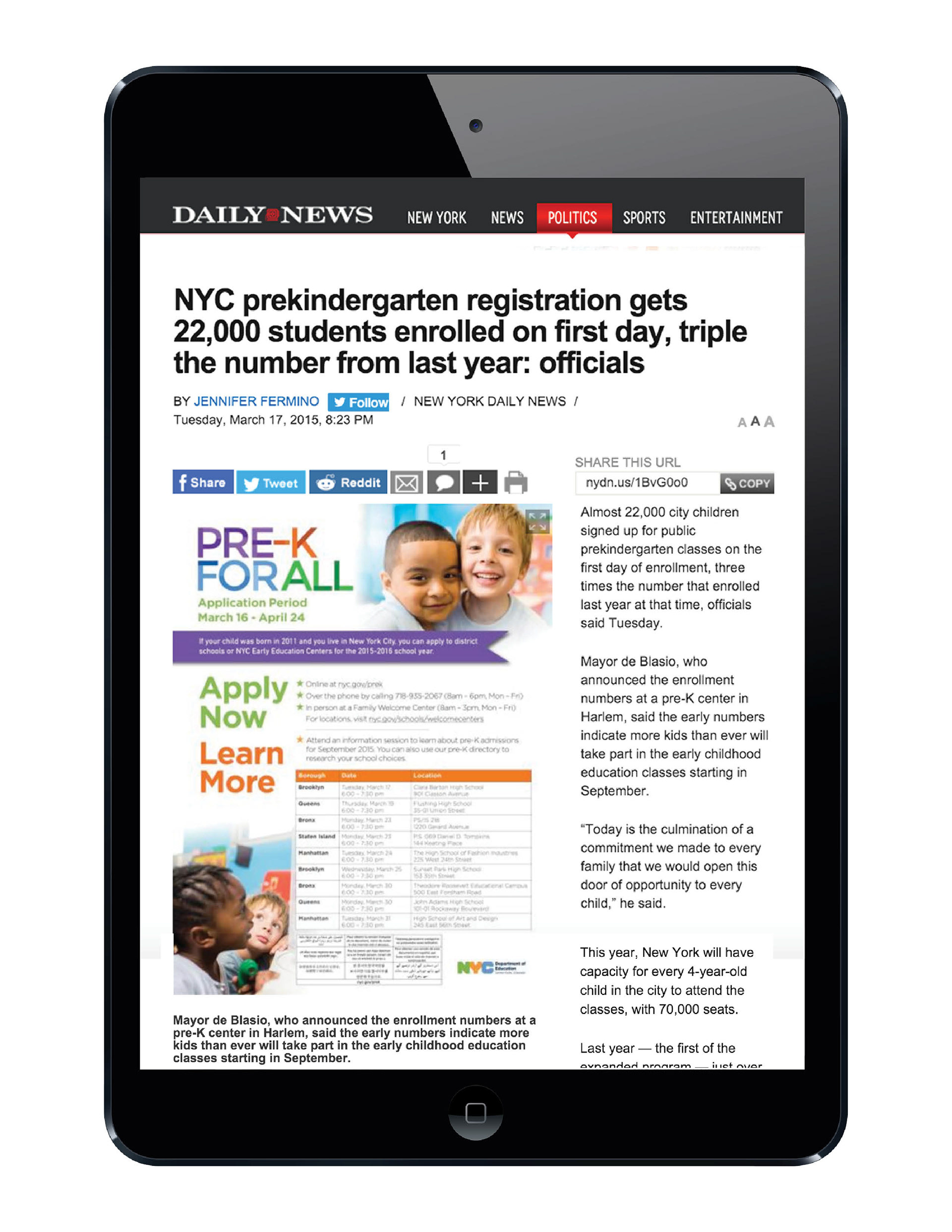 In addition to the website, I was tasked with creating a solidified brand around the new Pre-K initiative based on the existing logo. 
I developed the layout and publication design for all 5 boroughs directories, in addition to event materials, and various other printed collateral.