The convoluted landscape of news media. Untrustworthy news. False stories.
THE OBJECTIVE
To help users find news that is unbiased and easy to consume. To create a platform that gives users access to a variety of existing news outlets and allows them to determine news bias using a collective rating system. 
I believed that by creating an experience where active citizens can select news from official sources, we would achieve more informed citizens and therefore, more motivated voters. Some of my other assumptions included:
 •People do not trust most political news stories
•Most people actively seek out news as part of their daily routine
•People are frustrated by the way news is delivered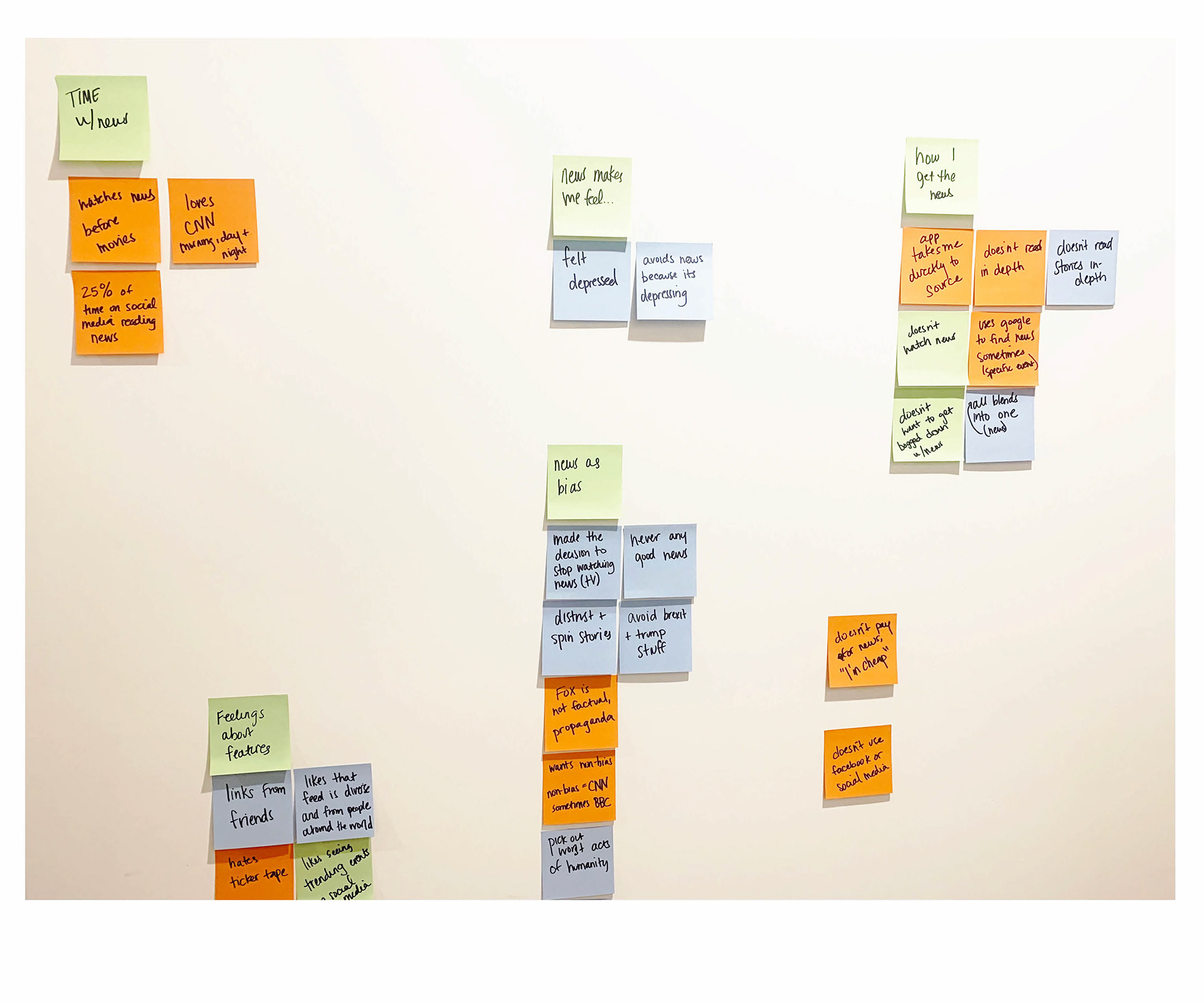 After conducting interviews, I realized the following. Users generally feel dread toward the news but they want to stay informed. The experience of "getting-the-news" is actually pretty good/pleasant for most users (apps, breaking news notifications, video content, news feeds on social media). Rather, unhappiness and discontent come from the content and the feeling that lots of news may be coming from untrustworthy sources. Users want to know what's going on but find the typical news experience convoluted. In short:
•People do not trust stories, but generally have faith in certain news outlets
•Finding small bits of news in short, digestible segments is important to them
•People want to be kept informed, but just enough 
At this stage, I was also able to formulate clear user goals which help shaped the primary persona.
 • Users want to find unbiased news
 • Users don't want to feel dread or depressed about the news
 • Users wants to stay informed
 • Users want to find out what's going on quickly without reading stories in-depth
TARGET AUDIENCE & 
PERSONA
• People who use Facebook, Twitter and other social media to share news stories
• Late 20s- mid 50s
• US and UK citizens who vote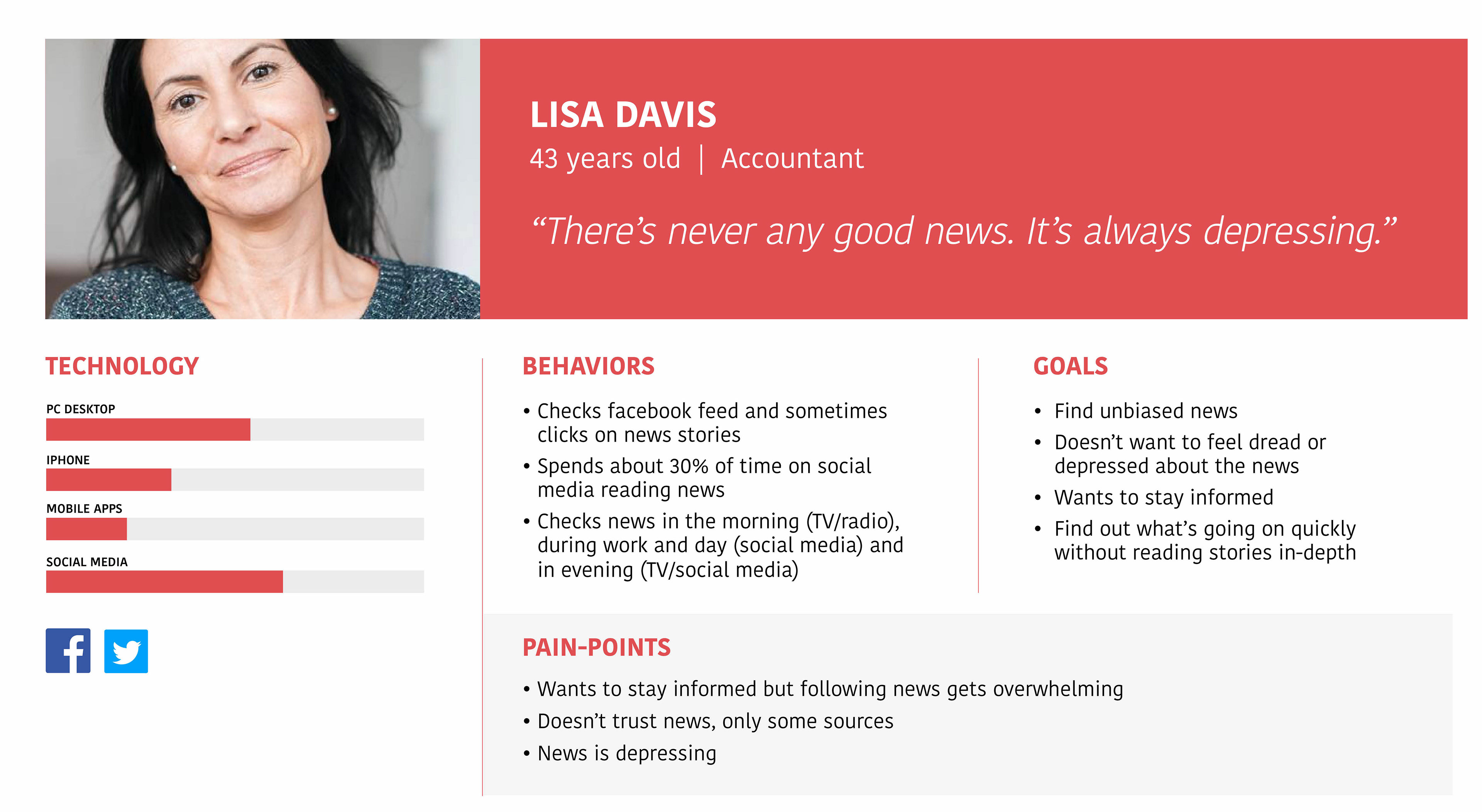 While conducting interviews, I began gathering a list of possible competitors. I looked at social media platforms, native news apps and a news agitator.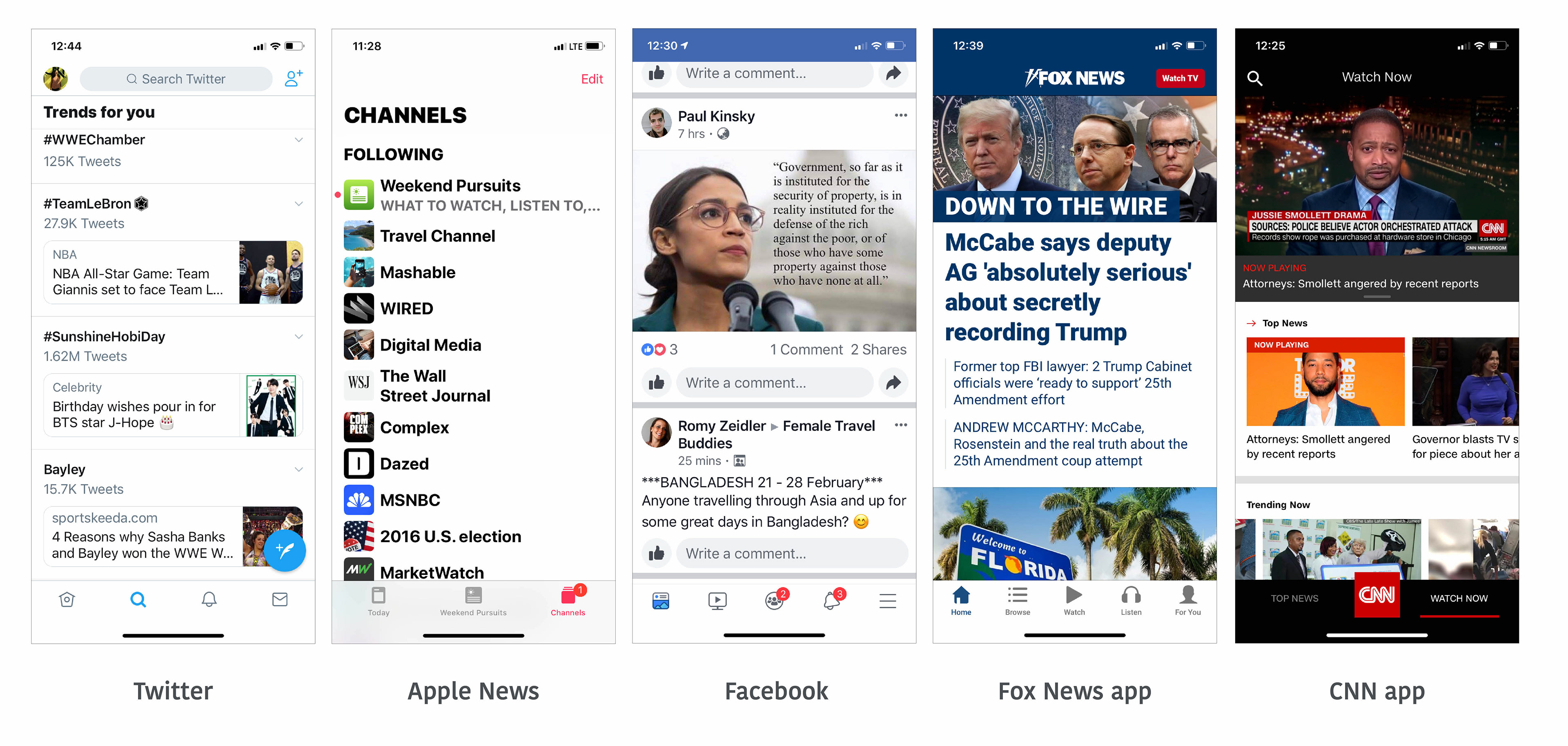 Twitter
Twitter displays short, digestible news headlines from both news sources and individuals. Twitter has become one of the quickest ways for 3rd party news sources to deliver breaking news.
Apple News
They allow the user to select from a range of news sources depending on their topics of interest. They provide an extensive catalog of sources that are easy to browse.
Facebook
Like Twitter, Facebook features short, digestible feeds by both news sources and individuals. Video is an effective platform and their model has shaped and influenced how people receive news (short video times, video and content formatting).
Fox News
Like CNN, they are one of the most popular news sources in the US. Their app and website offer a range of ways to consume news including a video channel, radio channel and hot topics.
CNN
They are arguable the most popular news source in the US. Their app and website offer a range of ways to consume news including a video channel and hot topics.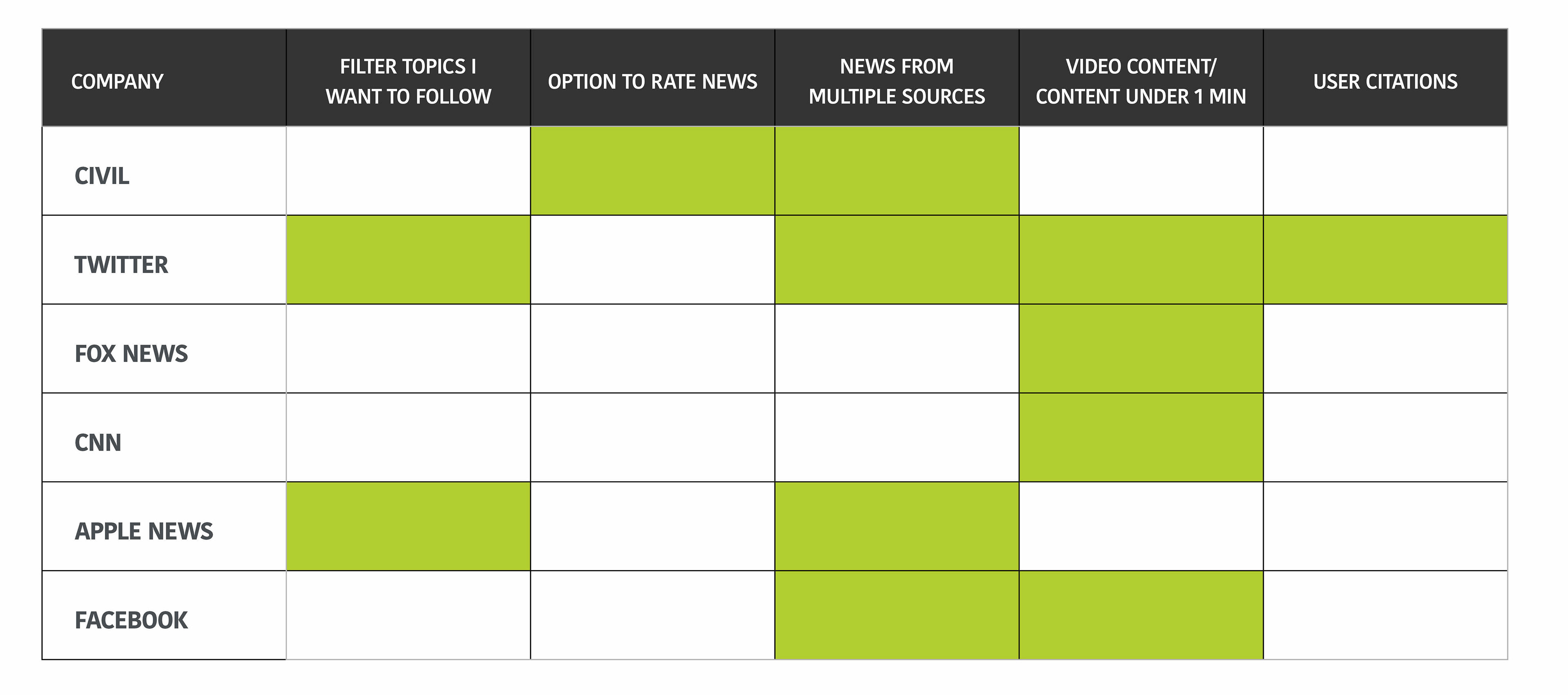 After, sorting through the competition, I used card sorting to identify and organize features.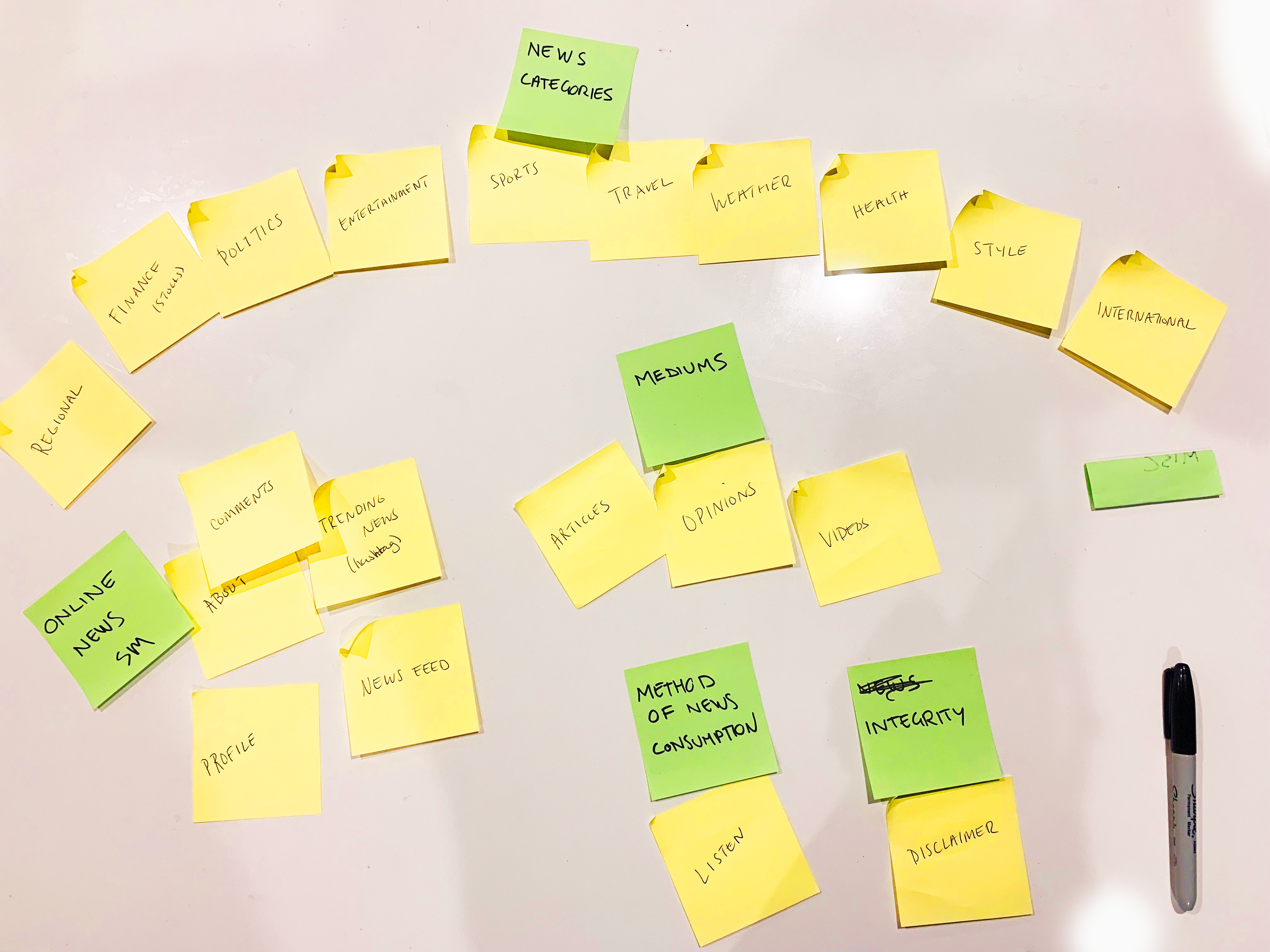 At this point, I started to flush out the concept of an application that would include a pre-determined list of features, outlined in the exercises above. Next, I created a sitemap and user flow.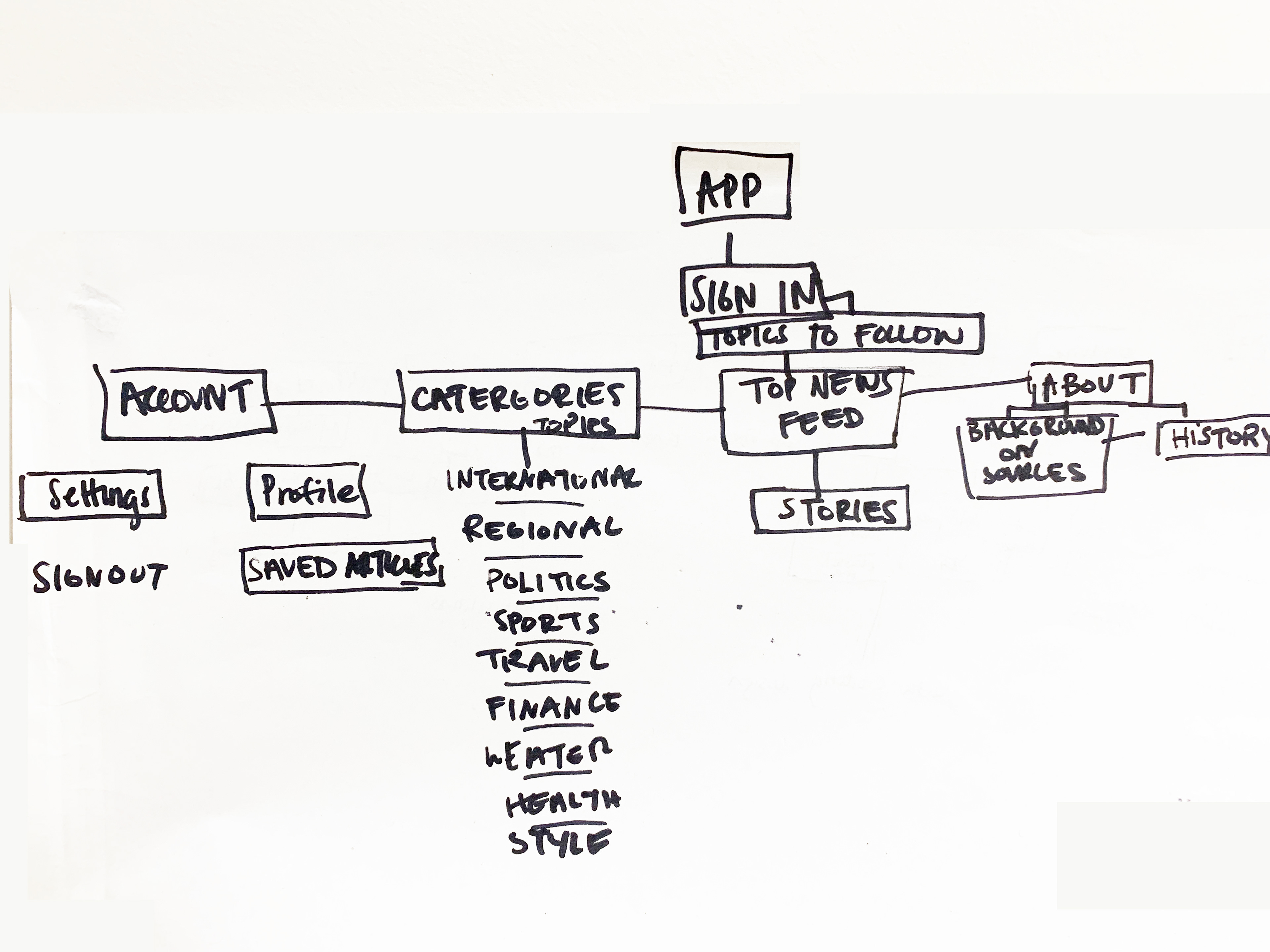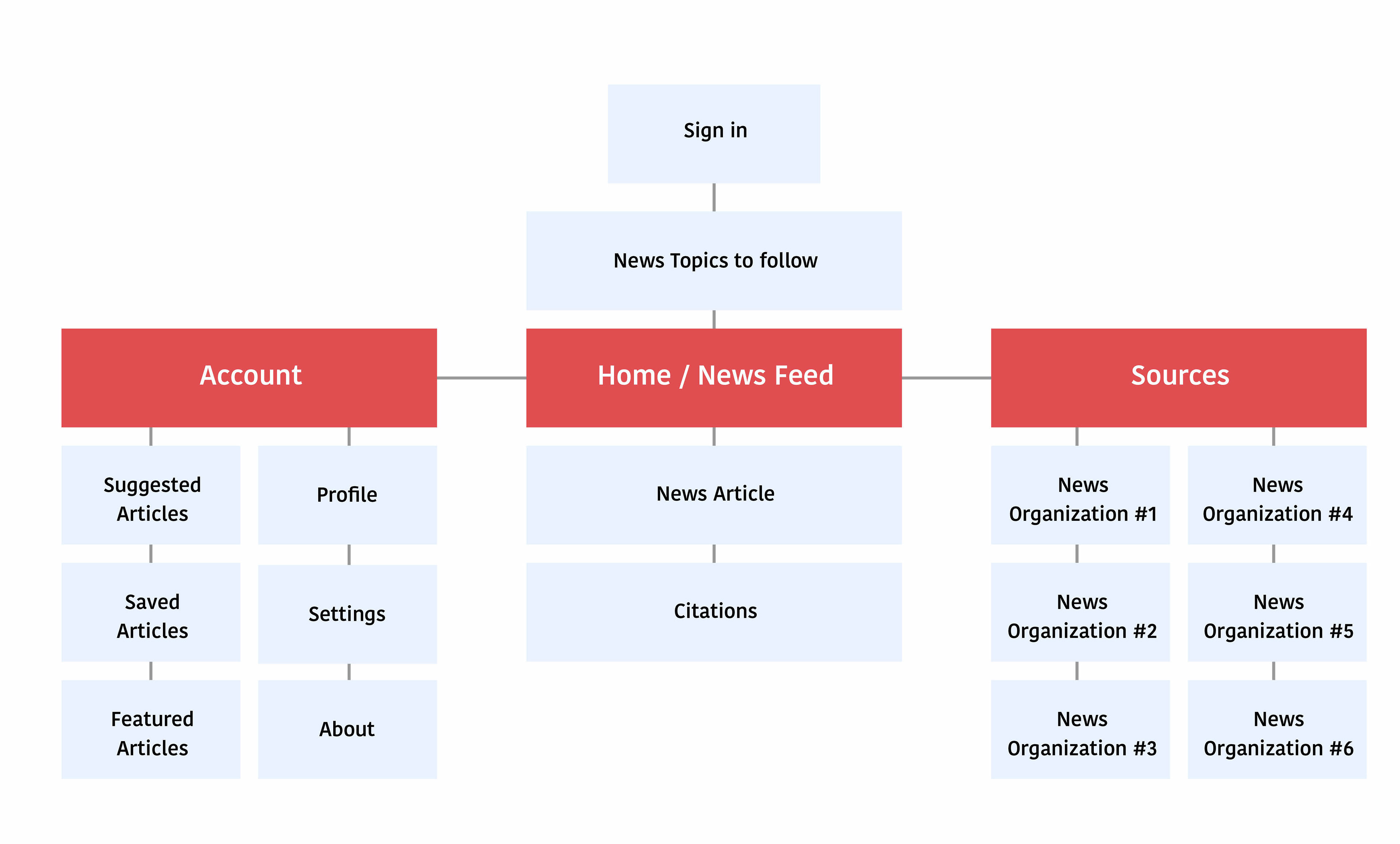 "An app that lets users congregate topics of their choice using a large selection of media outlets. Users will be able to rate stories or articles after reading and viewing ratings, allowing them to determine if a story is viable or not."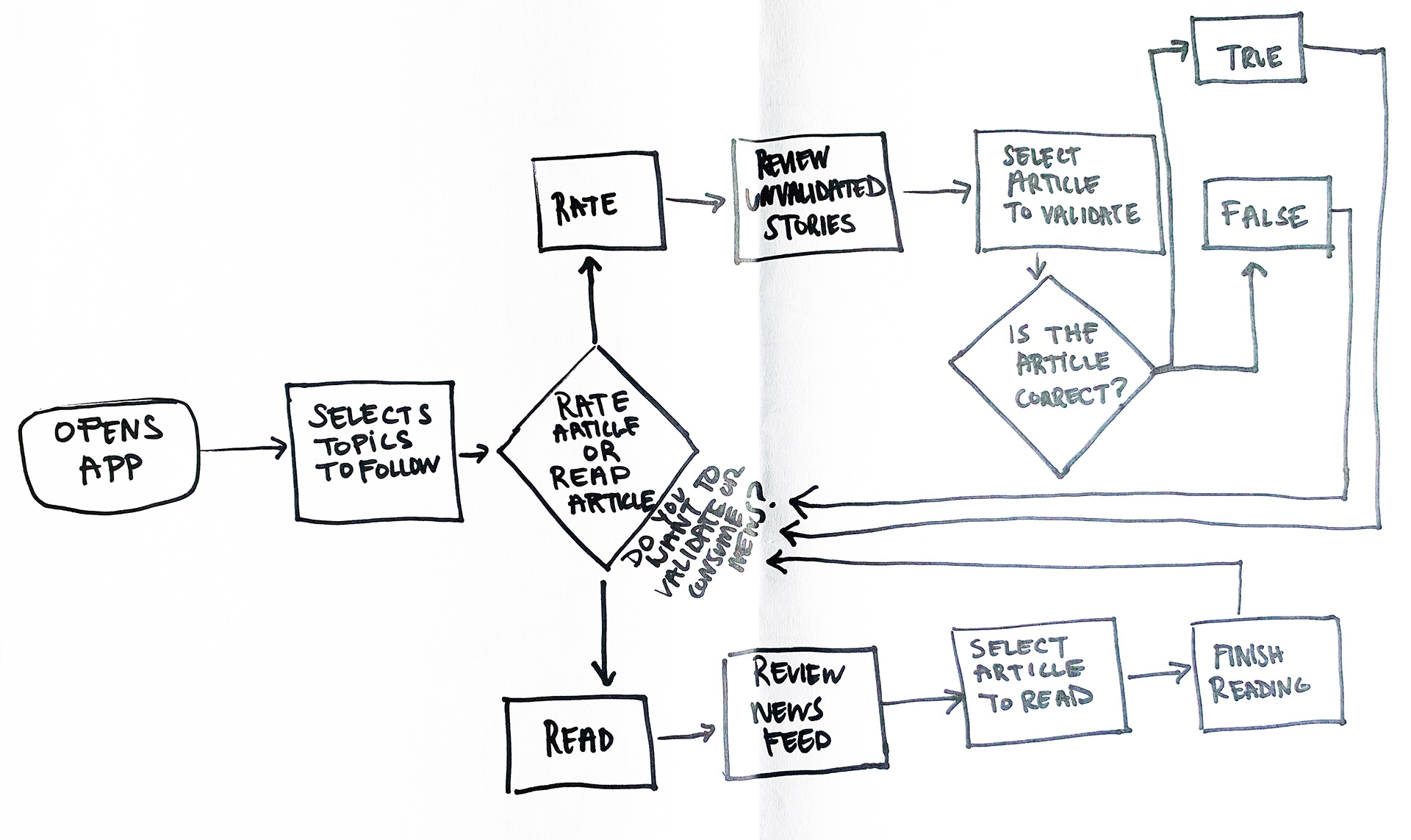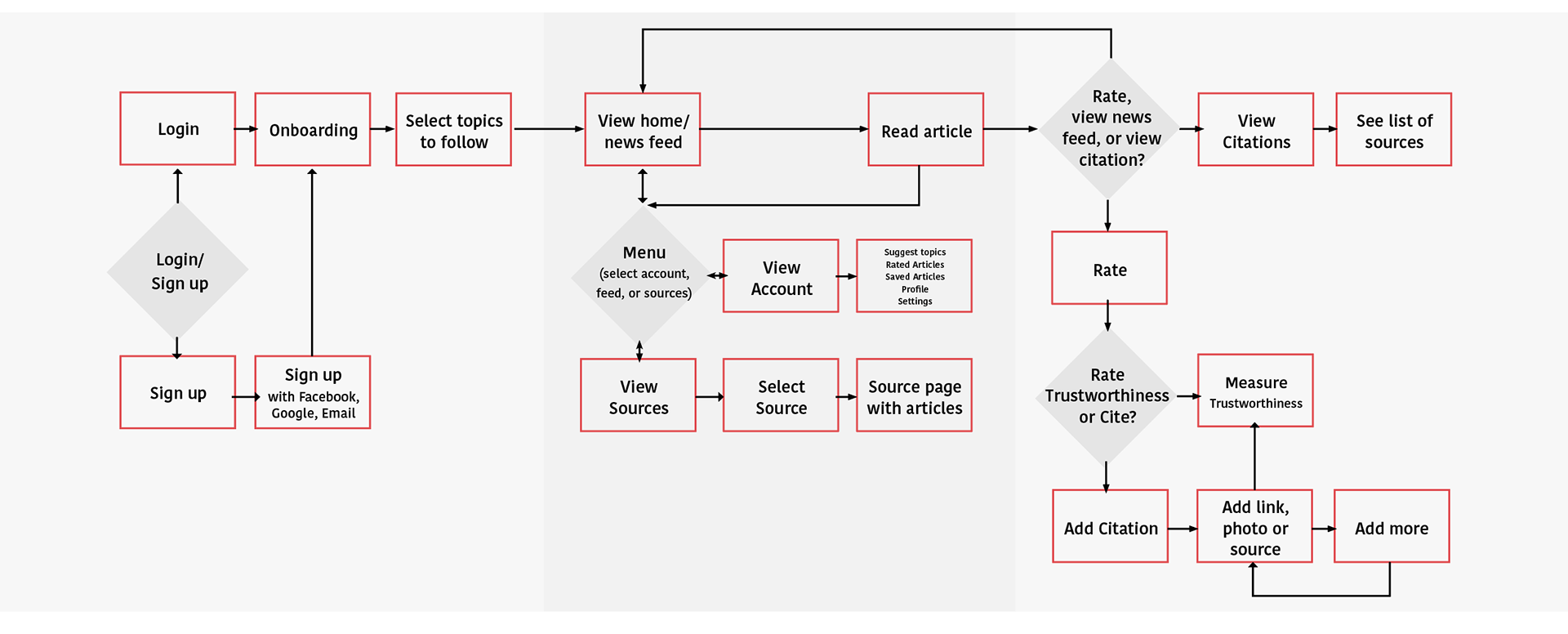 The wireframes below incorporate a navigation menu and features outlined in both the sitemap and user flow.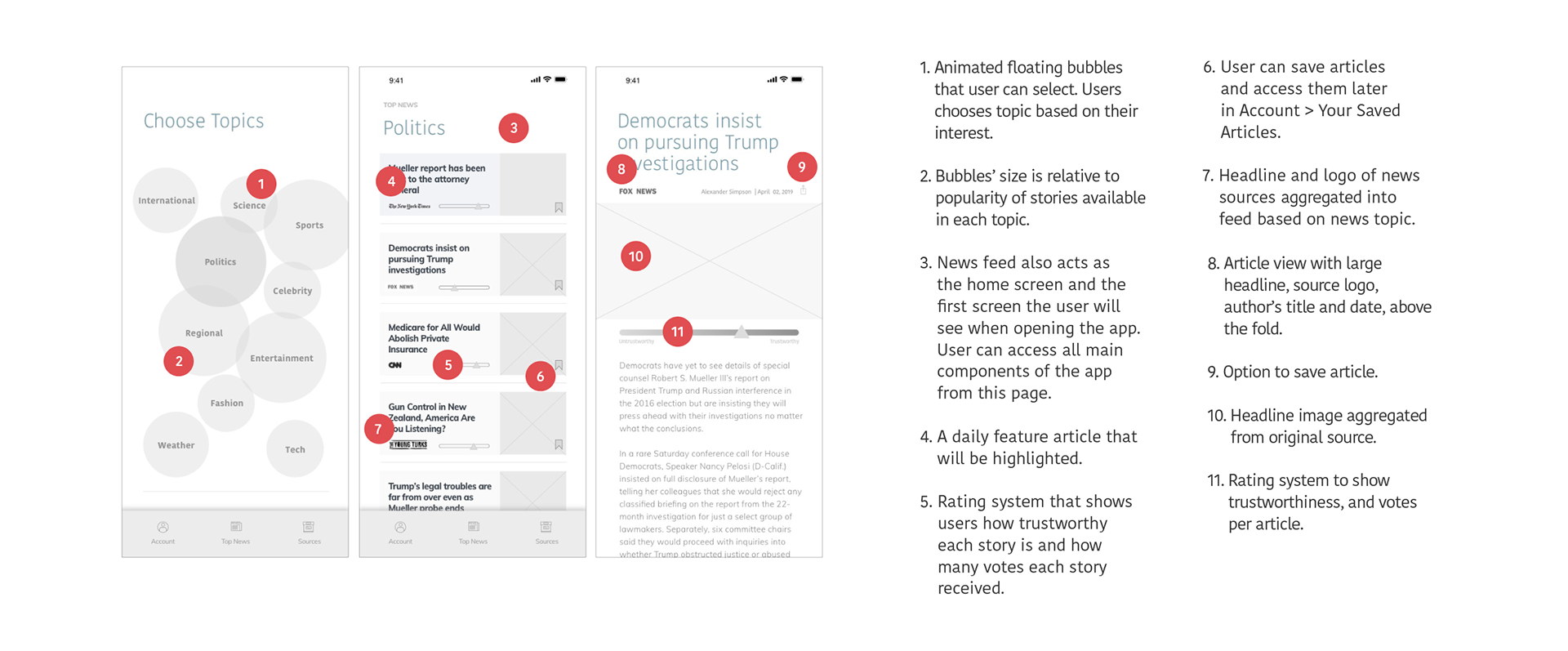 After wireframes, I introduced more advance UI and visual design to create a working prototype and began testing users in my target audience.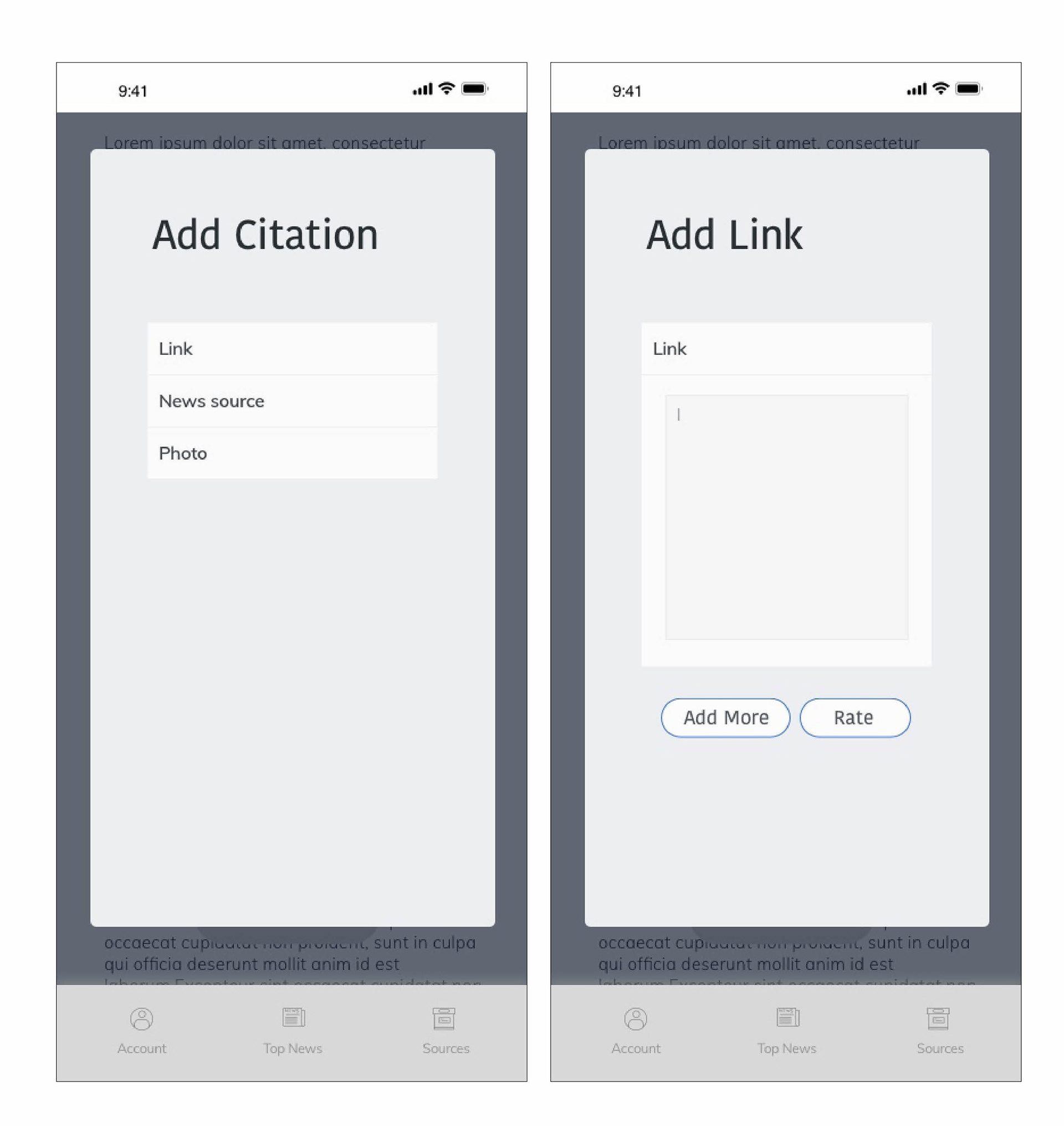 After testing, I realized there are several component of the app that would need to be continuously tested with methods like surveys and A/B testing. These features involved the newer UI--the rating system--an interface that many users were not familiar with. After testing, I iterated on several various rating systems. I also found out the following from testing:
•UI should give clearer message on previously rated articles
•Users need option to add citations to support rating system of trustworthiness
•Users need to be able to visit profiles of other users; to see logged ratings and citations     to reinforce system of trustworthiness